Who We Are
We are group of tennis enthusiasts in Peachtree City, GA with different backgrounds and skills who love the game of tennis. During the years of playing the game, we have realized something that is common for all of us: challenging our personal abilities and the process of improvement is what brings us back to the tennis courts every time.
Becoming a good tennis player is a complex and long process, and it takes more than willpower to improve your game. Having access to tennis courts and teaching professionals is important for our development as players, but these are only two major things on the way to a better game.
You need to play in matches against others who are better than you in order to truly test your skills and discover your weaknesses.
We are focused on junior player development on every level of the game. The challenge ladder competition in Peachtree City, GA along with USTA Jr Team Tennis will help our young players to reach their full potential as competitive players. We manage USTA Junior Teams as a necessary step towards competitive skills development in young players
Note: Every Player involved in any services provided by TennisCare has to maintain membership in order to have access to these services. Subscribe for a membership.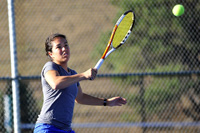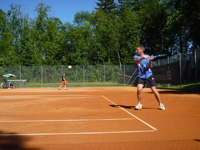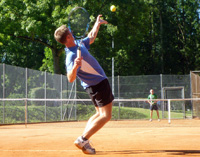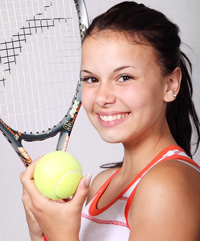 Junior Team Tennis
Every season we evaluate our players and place them with USTA Junior Teams managed by TennisCare. Team Tennis is a good entree level of competition that is an important milestone towards building individual tournament skills. We support USTA Team Tennis programs locally, as it is proven to be beneficial for most of our juniors.
TennisCare Challenge Ladders
We believe that competition is the nature of our sport and without it, players lose motivation to improve. Challenge ladder participation is one of the many benefits that our membership offers. The ladder saves travel time, tournament fees, and is the most convenient way to compete locally at lowest possible cost. We overwrite USTA'S rules for competition in our ladders, because our goal is more matches locally. We are trying hard to bring the game on our courts and grow the sport into the neighborhoods, not in an USTA approved facility that is not affordable for many, inconvenient for others and travel.
Court reservation / Court Construction
Court reservation system and soft courts construction. We specialize in European Red Clay courts construction. Playing tennis on different surfaces develops more competitive skills for shorter periods of time.
Racquets stringing
Racquets stringing at the best prices and used racquets exchange for our members.
Tennis Lessons
Tennis lessons, drills and tennis camps for our young players. Tournament level coaching and support. Practice matches and warm-ups for tournaments by request. Free evaluations for our new members and referrals. Team deals on tennis gear and apparel.
Ladder tournaments
Organizing Challenge Ladder End of season tournaments locally.